Leisure is an important part of our life. Playing some games in your free time is never a bad idea if you enjoy it. Playing games is a good way to release your accumulated stress as well as to reward yourself. If you don't like to spend your hard earned money on any game, worry not. There are plenty of decent free offline games you can download for Windows 11 PC.
This guide will show you how to find, download and play some of the best free offline games for PC on Windows 11 using popular gaming platforms such as Steam, Epic Games and Microsoft Store.
Also see: How to Play PC Games with PS5, PS4 or Xbox Controller on Windows 11
Download free offline games for PC via Steam
Steam is one of the most, if not the most, popular gaming platforms in the world. Users can search for, purchase, download and play games from Steam client. Beside being able to discover and play games from it, there are also other features such as community workshop, forums, market, etc.
One of the good things about gaming platform is that you can find games by their popularity and reviews. With that, you can skip the bad games and go for only the good ones that worth your precious time, based on other players' reviews.
You can get Steam client for Windows 11 from https://store.steampowered.com/about/.
Once installed, launch the Steam client and sign up for a Steam account. Login to your newly created account and start browsing the game store.
To find the best and free games, select Free to Play on the left sidebar under "Browse by genre".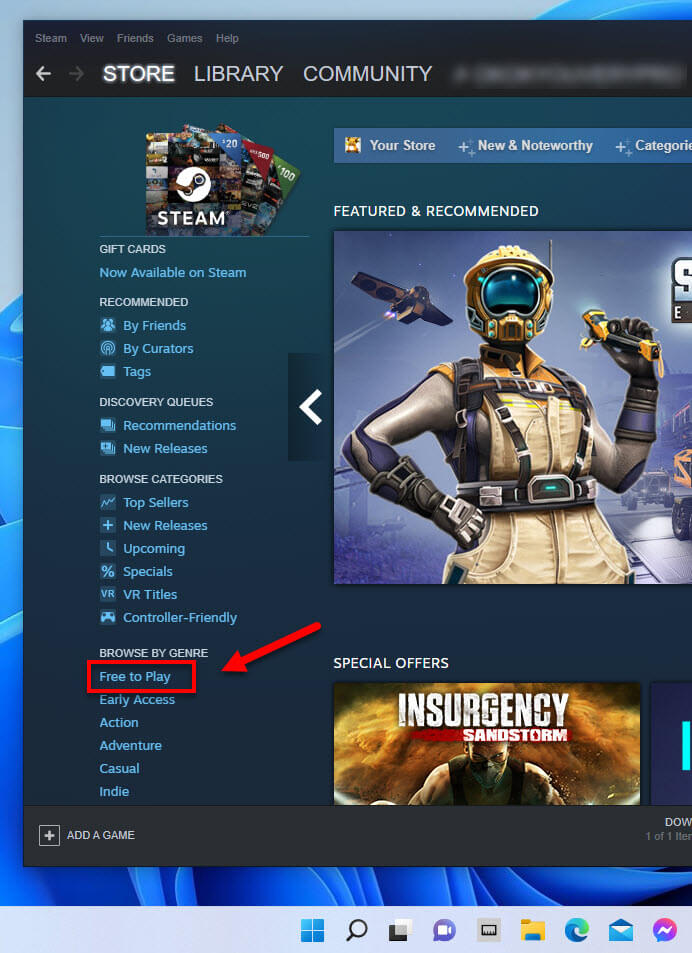 This will open the store page where all free to play games will be listed. From there, you can view all sorts of free to play games recommended for you based on the games you have previously installed. Since you are new to Steam, it will recommend you random free games.
Scroll down the page and select the "Top Sellers" section to browse the most downloaded free to play games. However, this list also includes game that are made for online multiplayer mode. You can browse this list and look for the games without the "Multiplayer" tag, or further narrow down your search by selecting another tag such as the "Singleplayer" tag.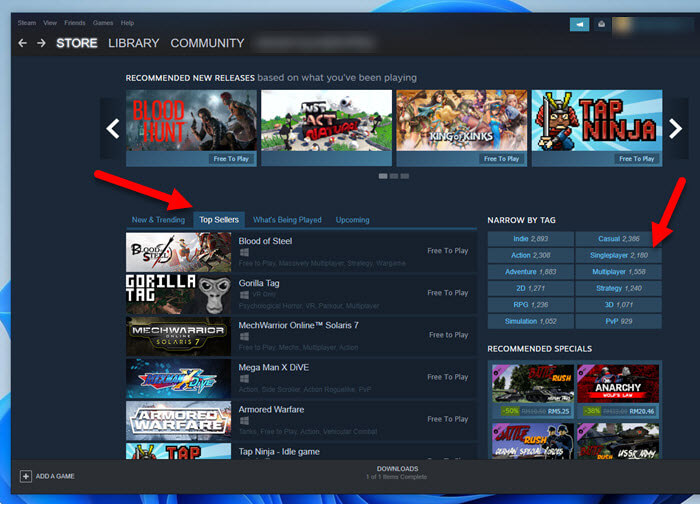 This particular tag will show you games that are playable by one person. On the search page, you may also need to select "Free to play" to search for free to play and Singleplayer games. To sort the games by user reviews (from the best to the worst), click the drop-down menu next to "Sort by" and then select User Reviews.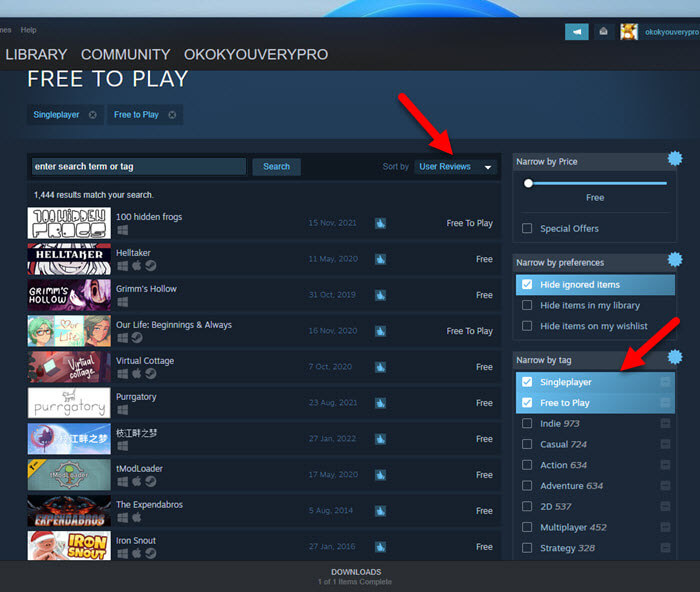 To download and install a game, select the game from the list to open the game's store page, then click on Play Game next to "Free".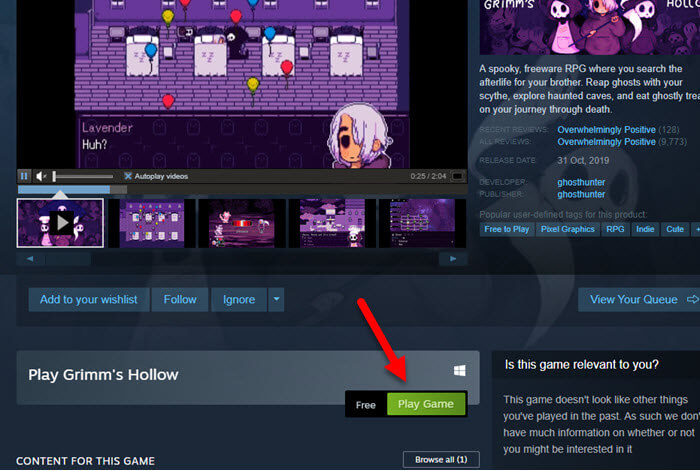 After the game is installed, a shortcut to open the game will be created on your Windows 11 desktop. You can also launch the game from the Library in Steam client. When you open Steam while offline, select "offline mode" to launch Steam in offline mode. This mode allows users to play single-player games that don't need internet connection on Steam.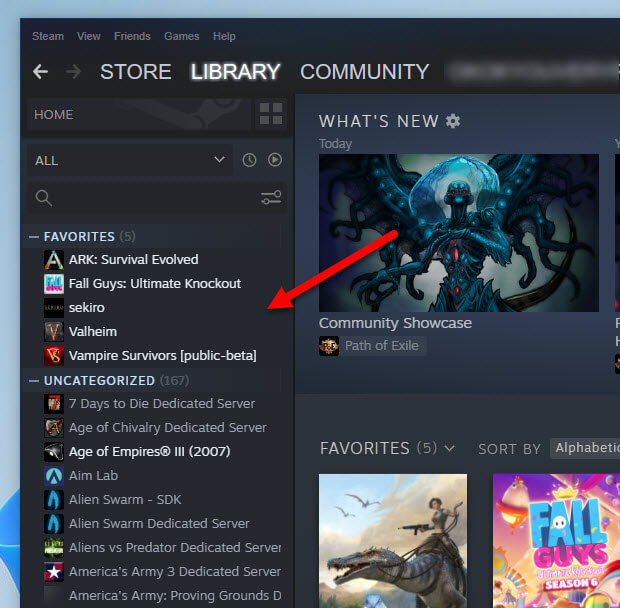 Get free offline games on Epic Games Launcher
Epic Games Launcher is another very popular gaming storefront that lets you discover and install games. There are plenty of free offline single-player games for PC you can download from Epic games launcher. It is especially famous for its weekly free game where the store will give you a free game (game that was not free outside of the event) every week.
You can download Epic games launcher from https://store.epicgames.com/en-US/download.
Once installed, open Epic games launcher and sign up for an Epic games account. After creating a new account, login to the account and browse the store for games.
To view the free games, on the Store homepage, scroll down until you see the "Free Games" section. This section will show you the free games that are available to you this week. These games are not usually free if it's not during this week. It's always worth to grab these free deals while you can.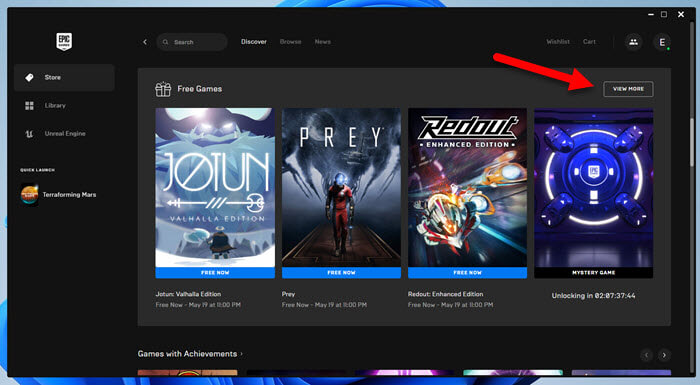 To view all other free games, click the "View More" button in the Free Games section. From there, you can view a list of all other free games available on Epic games store.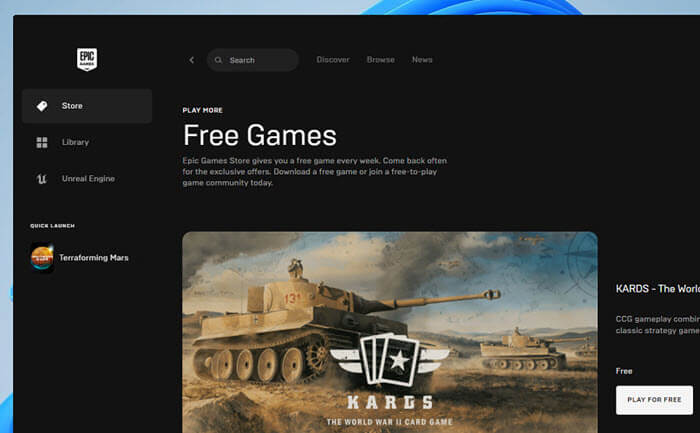 To search for only single-player game that you can play offline, use the search bar to search for "Single Player", and then sort the list by "Price: Low to High" (so that the free games will show first on the list).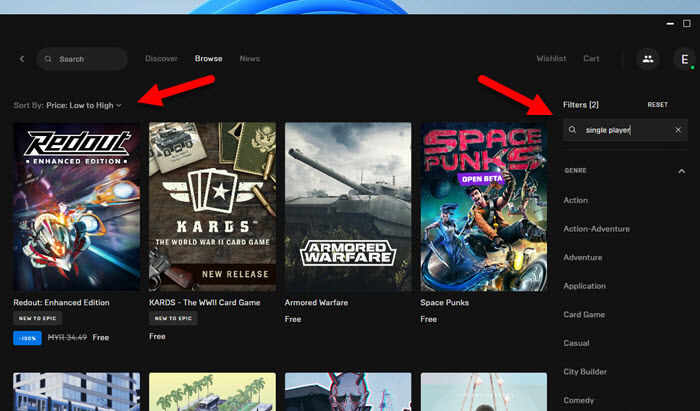 To install a game in Epic games launcher, select the game from the list, and then click Get in the game's store page.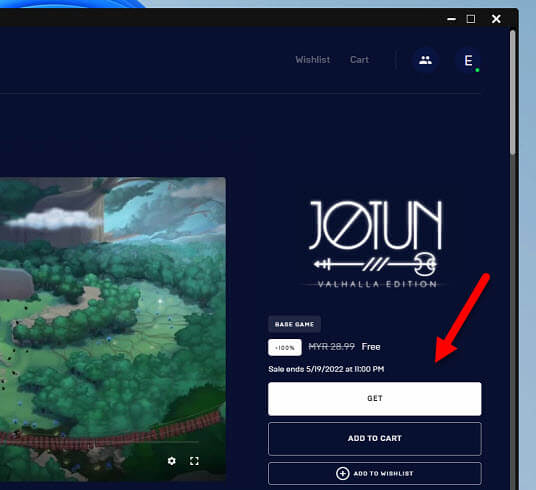 The game will then be downloaded and installed automatically. After that, you can launch the game by either opening the shortcut of the game on your Windows 11 desktop or launching it from the Epic games launcher.
Install free offline games for Windows 11 from Microsoft Store
If you don't like to install any gaming platform, you can find free offline games directly from Microsoft Store – a digital storefront that comes with Windows. Though not the best, Microsoft Store does have some decent offline single-player games for Windows 11 PC.
To view a list of best free offline games in Microsoft Store, first open Microsoft Store from the taskbar or by searching it via Start. In the store homepage, scroll down and click "See all" next to "Best selling games".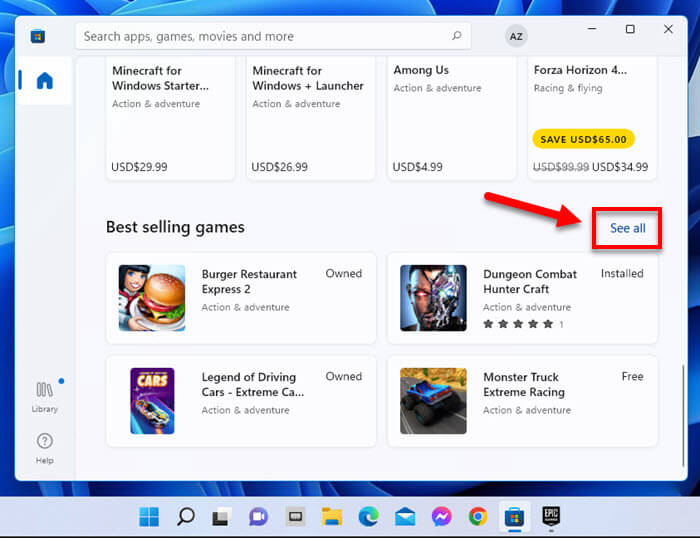 Next, click Filter at the top right corner of the window, and then select Top free and Single player as the filter. This filter will show you a list of the top free and single player games that you can play offline.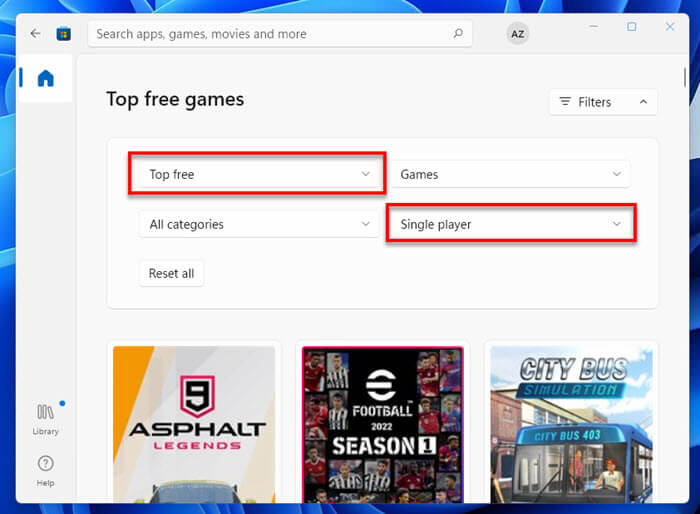 To install a game, select the game from the list and click Get in the game's store game.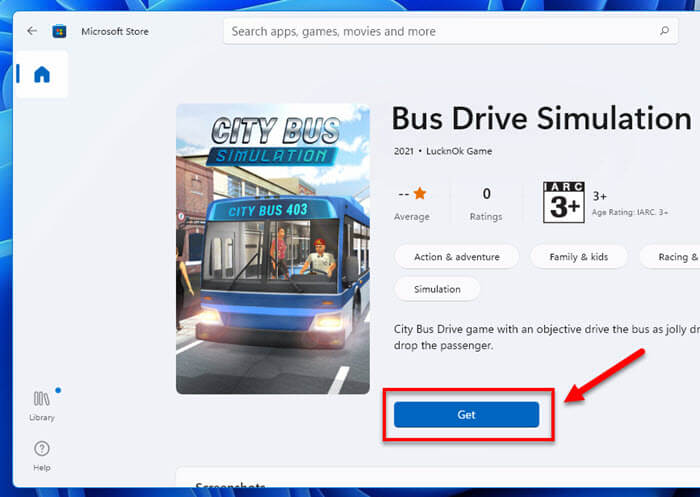 Once installed, a shortcut to the game will be created on your desktop. You can launch the game using the shortcut or from the Start menu.