You are running Windows 10 but one of your games asks for DirectX 9 to run. You look everywhere else but couldn't find any download for DirectX 9 offline installer specifically for Windows 10. This post will explain why and how to resolve issues that require DirectX 9 offline installer for Windows 10 64-bit or 32-bit.
Some games will have a selection in the video setting or the launcher to allow users to select whether they want to start the game in DirectX 9, DirectX 11 or DirectX 12. This will decide how the game works with your graphic card to display the in-game graphics. Well, one thing you should know is that the later version will always be the better choice. Though I don't know why you would want to select DirectX 9 if there is option for latest DirectX version, here's what you need to know about DirectX 9 download for Windows 10.
How to Download DirectX 9 for Windows 10
First off, you need to know that the default DirectX version that comes with Windows 10 installation is DirectX 12. It means that when you first get your hands on your Windows 10 computer, DirectX 12 is already preinstalled in it. That is currently the latest version of DirectX for Windows 10.
Secondly, DirectX 12 is backward compatible, meaning that it also include every technology from its predecessors including DirectX 11 and DirectX 9. That said, if you are running Windows 10, you should be able to run your games in DirectX 9 whenever selected in the game. You shouldn't at all have to download or install DirectX 9 offline installer for Windows 10 PC since it's already included in DirectX 12.
If your game is still asking for DirectX 9 in Windows 10 or showing error when you run with DirectX 9 selected, it is most likely due to other issues such as outdated or corrupted graphic driver, or the game itself is causing compatibility issues. If you insist to try installing DirectX 9 for Windows 10, here's what you can do.
DirectX 9 offline installer
You can try to use the redist version of DirectX 9 offline installer released on June 2010. It's not guaranteed to work in Windows 10 since the installer was made available years before Windows 10 exists. It was originally made for Windows 7 and older Windows OS.
We don't recommend using the DirectX 9 offline installer. This is a very manual way of updating DirectX files. Editing or replacing system files such as DirectX files in System32 folder may cause serious issues. Please do this at your own risk. If you have internet access, to save all the hassles, we recommend to just run the DirectX 9 End-user Runtime Installer instead which will be shown below (scroll down).
You can download DirectX 9 offline installer from here (link hosted by Microsoft).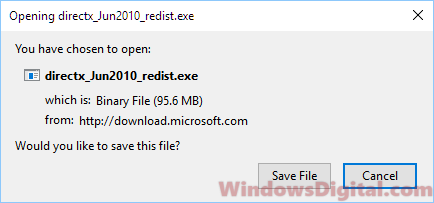 Save the file and run the installer to extract the DirectX files.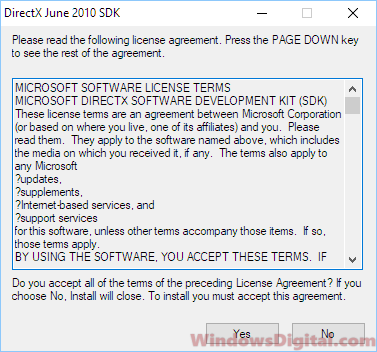 Once extracted, you should see a huge list of .cab files in the extracted folder. Select the latest version of DirectX 9 from the list. In this case, it would be Jun2010_d3dx9_43_x64 for 64-bit or Jun2010_d3dx9_43_x86 for 32-bit.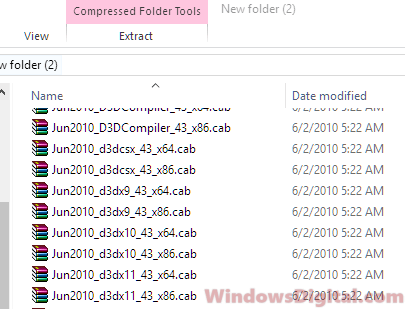 Extract the .cab file with WinRAR or other zip software. Then, copy and paste the extracted files (replace the d3dx9_43.dll) to C:\Windows\System32 or C:\Windows\SysWOW64 if you're running Windows 10 64-bit. Alternatively, you can try to extract other .cab files for June 2010 and copy the files to replace them in your syswow64 folder.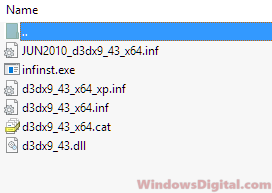 DirectX 9 Runtime Download
Another method is to try to run the DirectX End-User Runtime which will provide updates to DirectX 9.0c and all previous version of DirectX before it. However, it's not an offline installer, but a web installer that requires internet connection to run.
You can download DirectX End-User Runtime Web Installer from here. Select your language and click on the Download button.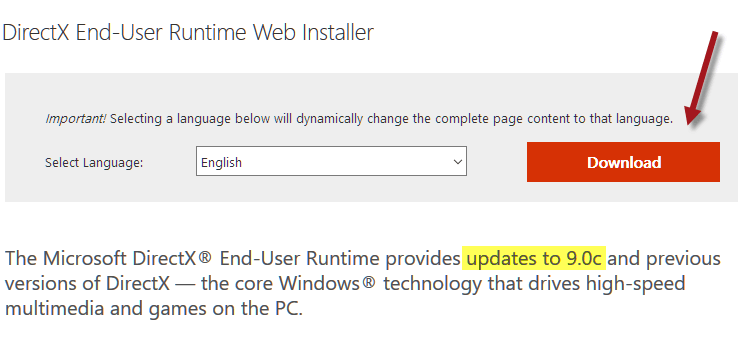 Once the download is completed, run the web installer to allow it to automatically update your DirectX with versions up to DirectX 9.0c. Once completed, restart your PC.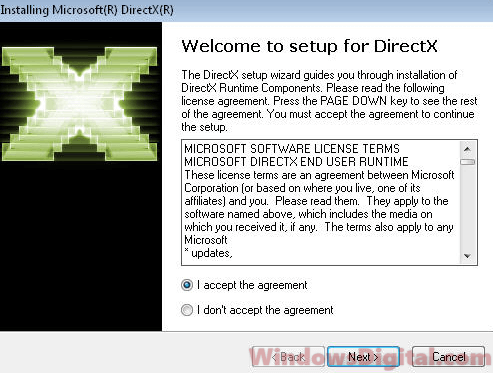 Though these methods of downloading and updating DirectX 9 for Windows 10 will not guarantee to fix your issues, but they can replace the DirectX 9 files on your Windows 10 system, especially when these files are missing or corrupted.
Anyway, the best method to fix and update DirectX 9 for Windows 10 is to run Windows Update. Windows Update is capable of scanning and automatically updating your DirectX whenever needed.