Avira is yet another excellent choice for computer security to protect your devices from threats. It is also one of the most popular firms that provides antivirus and other security suite for both computers and mobile devices, used by millions of users from all around the globe. This article will list all the Avira Antivirus 2018 offline installers (Avira Free, Avira Antivirus Pro, Avira Internet Security Suite, and Avira Prime) for Windows 10 64-bit or 32-bit PC.
Apart from Avira Free, the rest of the Avira Antivirus premium suite such as Avira Prime and Internet Security Suite require a paid license or a 30 days trial key to be used. If you have the license already and need an offline installer for the software, you can use the downloads below.
Avira Free Antivirus
Avira Free Antivirus 2018 is the latest free version of Avira antivirus software that provides basic but powerful protection against viruses and malware for home computers. It also protects your devices against the recently hot threat we called ransomware.
The software has a very user-friendly interface and is extremely easy to use. It is one of the best antivirus software that are known to have the best performance (fast, doesn't use up too many resources, yet fully loaded).
Download link
Download Avira Free Antivirus offline installer – (official download link from Avira).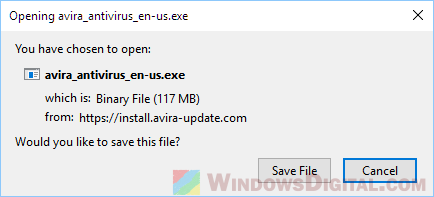 Avira Antivirus Pro
Avira Antivirus Pro is the first and the cheapest paid premium package of Avira products, offering extra features such as better ransomware protection, ads blocking, fake sites blocking which secures your banking and shopping activity, and better customer support.
"Lets you bank, shop, pay & email with complete confidence -Avira".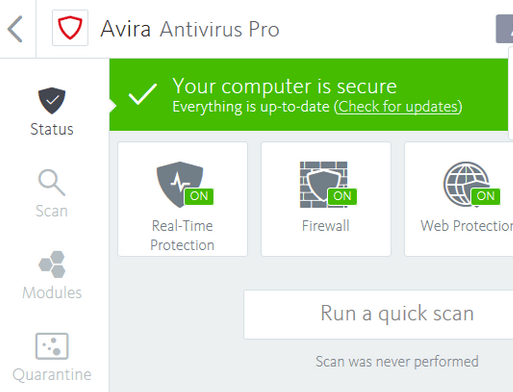 Download link
Download Avira Antivirus Pro offline installer
You will have to download both packages and install them to complete the installation.
Avira Internet Security Suite
Avira Internet Security Suite 2018 offers a much more premium web protection. Aside from the core malware and virus protection while simultaneously safeguarding your banking and shopping activities, its integrated firewall manager helps to prevent unauthorized computer access and data leaks.
The main features of Avira Internet Security Suite are as followed.
Auto-generate and securely store passwords.
Automatically update your software and programs.
Fix your software vulnerabilities.
Automatically update your hardware drivers.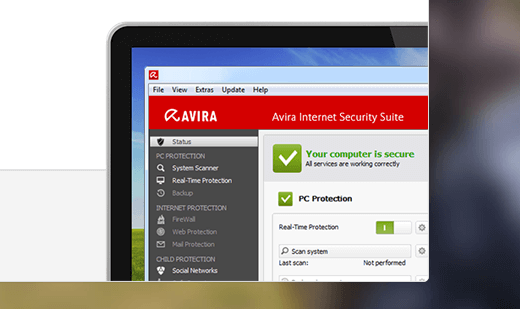 Download link
Download Avira Internet Security Suite offline installer
You will have to download the three listed packages including the Avira SoftwareUpdater Windows to complete the installation for Internet Security Suite 2018.
Avira Prime
Avira Prime 2018 is the ultimate protection package of Avira products. It has everything Avira has to offer, from basic protection to the most advanced security solutions. It is also the most expensive product by subscription based among all Avira products.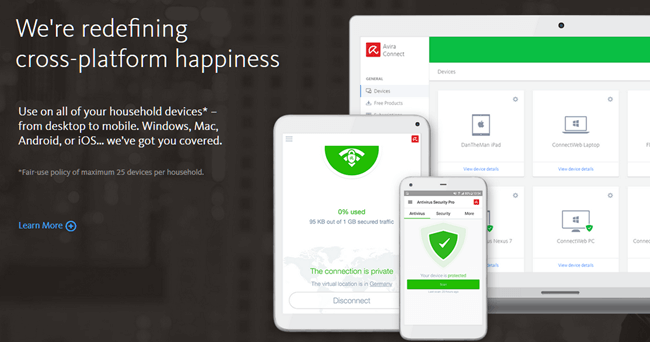 The following are the extra features of Avira Prime 2018 as compared to other products. Additionally, any new premium services will be automatically included in Avira Prime.
Optimizes your computer and improve its speed.
Ability to clean junks from your disk, browsers and registry.
Allows you to mask and encrypt your traffic for anonymity surfing.
Bypasses restricted website to help you access to geographically blocked sites.
Safeguard you from personal data leak and helps mitigate the risks of identity theft.
If you have a mobile device, you can use Avira Prime on it as a security apps to protect your Android or iOS.
Automatically include new features in the future with no extra charges.
Download link
Download Avira Prime offline installer
You will need to download all packages listed on that page to complete the installation for Avira Prime which include Avira System Speedup and Avira VPN Windows.