AVG Free Antivirus is one of the most popular free antivirus software for Windows PC. It has been widely used by users from all around the world since decades ago to protect their PC. AVG is the latest version of AVG Free Antivirus to date. This article will include the direct download links for AVG Free Antivirus offline installer / full setup installer for Windows 10 64-bit or 32-bit.
AVG Free Antivirus Offline Installer
AVG Free Antivirus provides basic security needs to protect your PC from threats such as viruses and malware attacks. It is known for its refreshingly simple user interface with essential free protection for your Windows PC.
AVG Free offers real-time protection for your PC, blocking unsafe links, downloads and attachments from emails. It also have a real-time security updates feature to ensure your PC is always protected from new threats.
The default installer for AVG Free Antivirus which you can download from AVG homepage is an online installer. An online installer is a small-sized setup (usually smaller than 10MB) that does not contain the actual installation files. The online setup requires internet connection to run to further download the required files for the installation. Thus, the web installer cannot be run on computer without internet access. In this case, we will need to download the AVG Free offline installer instead.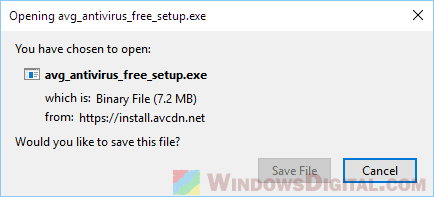 AVG Free Offline Installer Download Links
To download the latest version of AVG Free Antivirus offline installer for Windows 64-bit or 32-bit, go to this page (official link from avg.com). On the page, instead of clicking on the big green Download button (which is for the default online installer), click on the Offline installer link.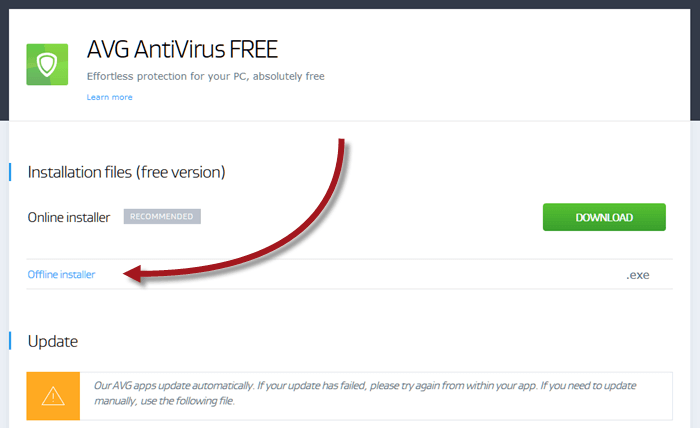 The site will detect your OS and its architecture automatically, and provides you with the right download. The AVG Free setup offline installer should weigh around 270MB with a name that reads avg_antivirus_free_setup_offline.exe.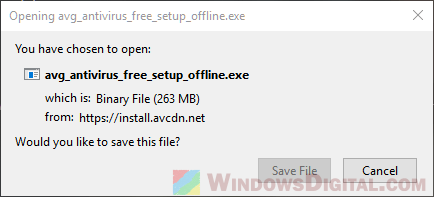 To install it, run the AVG Free Antivirus offline installer you've downloaded. Select Yes when Windows 10 prompted for UAC confirmation.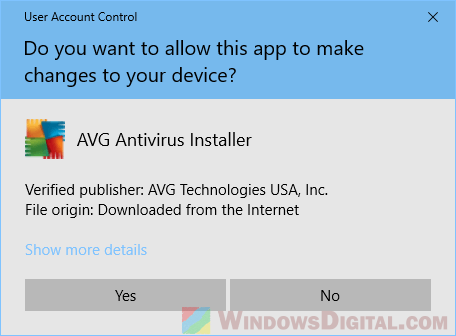 Click on the Install button and the installation should start automatically. If you need more customization of what features you want to exclude from installation or where it should be installed, click on the Customize link instead.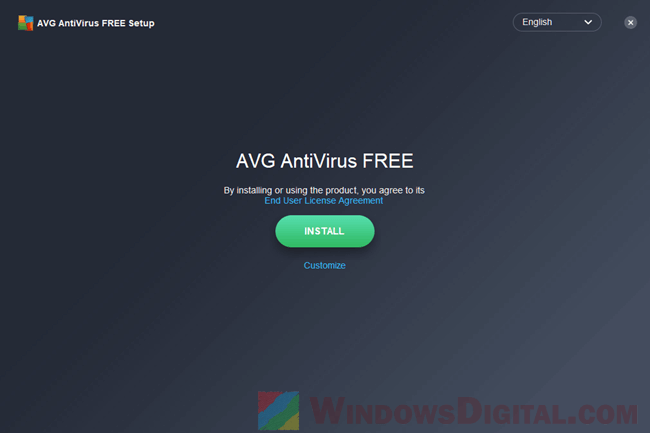 Since it's a full offline installer, you don't need internet connection to run the installer. You can copy and use the AVG Free offline installer on any computer with or without internet access.
The download link provided above is the direct download link from avg.com and is the best place to get the latest version of AVG Free Antivirus offline installer.
It's worth mentioning that downloading software from unofficial external sources, especially for antivirus or other security programs, you may risk installing unwanted programs or malware that could have been infected the setup before download.