Daemon Tools is a virtual drive mounting tool to mount virtual images such as ISO and IMG files in Windows. Daemon Tools Lite is the lite version among all other Daemon tools products. Here's how to download Daemon Tools Lite offline installer free for Windows 10 64 bit.
A CD or DVD media can sometimes be in a virtual form often appears as ISO, IMG, MDX, MDS or APE image file type. In order to read the content in these virtual disk drives, we need disk image software like Daemon tools to mount the image on a virtual drive such as E:\. It will work as if you are inserting an actual DVD to your PC. Daemon Tools Lite, in this case, will help to mount any of your ISO files and allow you to read the contents from it. However, you will not be able to edit contents in the ISO file using Daemon Tools Lite.
Daemon Tools Lite Free Download for Windows 10
Daemon Tools Lite Free Download vs Paid
Daemon Tools Lite only comes free with ads. This means that when you download and use the software for free, you may see ads from it or may include optional additional software during installation. If you want the ads to be gone, you will need to pay for it. It is a great way to support the developer if Daemon Tools is really helping you out.
If you need further advanced features for mounting and using virtual drives, you may consider upgrading to Daemon Tools Pro or Ultra edition, which of course, is higher in price. However, if you are just doing casual virtual drive mounting, the Daemon Tools Lite free download for Windows 10 should work just fine.
Daemon Tools Lite offline installer
The default download for Daemon Tools Lite for Windows 10 is a web installer. A web installer is a setup that requires internet connection to further download the setup files in order to be installed. Thus, some people are looking for Daemon Tools Lite offline installer to be installed on computers with no internet access. Here's how.
Update: As far as we know, the Daemon Tools official site doesn't provide offline installer for Daemon Tools Lite. It only has the online installer. To get the latest version of Daemon Tools Lite, it's still best that you run the default DTL web installer instead.
There are sites which offers Daemon Tools Lite offline installer if you search on Google. However, these installations may not be up to date and may include unwanted software that comes with the setup.
Daemon Tools Lite Free Download for Windows 10 64 bit
So, here's how and where to download Daemon Tools Lite free for Windows 10 64 bit on desktop or laptop computer.
First, go to this page (official product page for Daemon Tools Lite). On the download page, click on the Download button that says "free with ads". The download should prompt shortly. Click Run as to run the setup immediately or Save as to save the setup locally.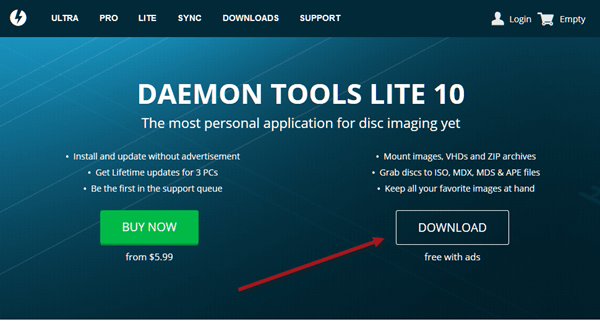 Once downloaded, open the setup file called DTLiteInstaller.exe. When Windows 10 UAC asks for confirmation, select Yes to run it with admin privileges. In the setup window, select the Free license option.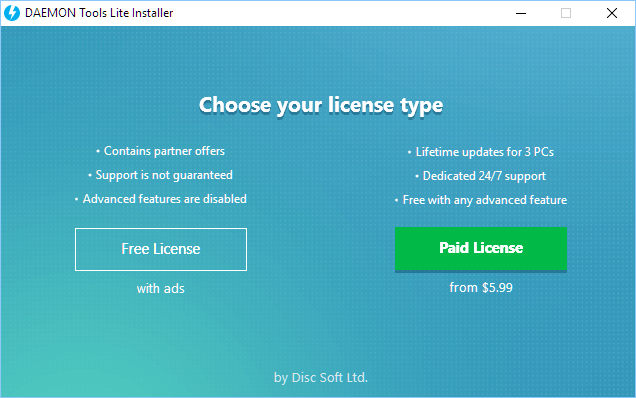 It should then start to check your internet connection and to download the setup files. It may take a while for the download to complete, depending on your internet speed.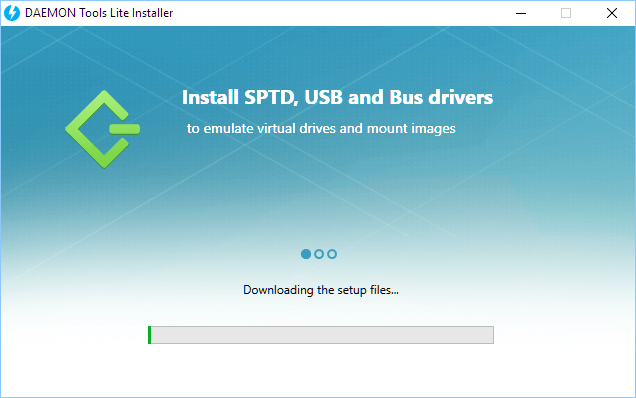 Once the setup files are downloaded successfully, you will be asked if you are ready to install. Click on the Install button and follow the rest of the on-screen instructions to complete the Daemon Tools Lite for Windows 10 64 bit installation.
Restart your PC after installation and that will be it. You can then start mounting ISO by either right-clicking your .iso file and select mount with DTLite or click on the virtual drive created by Daemon Tools Lite and browse to your ISO files.