Cox communications is a major internet service provider in the USA. Their services include cable Internet, TV and digital phone service. If you apply for any Cox's high speed internet packages, you will be entitled for the Cox Email service for free. This guide will show you how to correctly login to your Cox Webmail email account inbox page.
All Cox High Speed Internet packages include Cox Webmail as a free service. With Cox Email, you receive:

10 email accounts with up to 2 GB of storage each.
SpamBlocker to keep spam and malware away.
Check your email anytime, anywhere.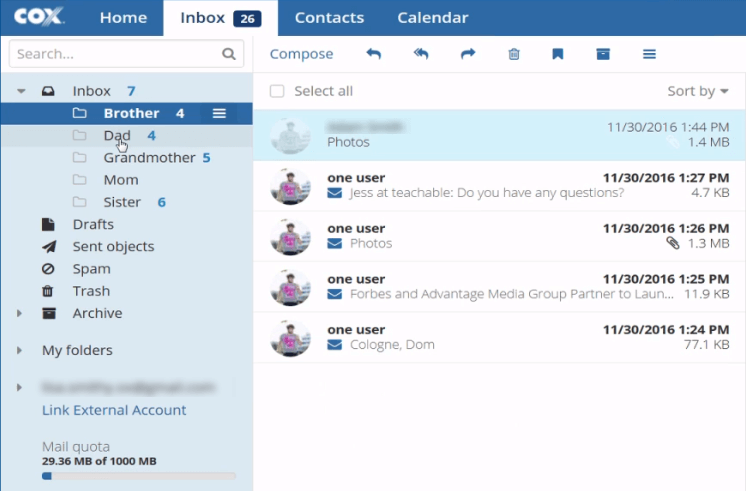 How to sign in to Cox Webmail East or West
Basically, you don't have to worry about if the Cox webmail login page is of east or west. When you open the default Cox webmail login page, you will be automatically redirected to Cox Webmail East if you are visiting from east coast; or Cox Webmail West if you are from the west coast. If you insist to manually visit to Cox webmail east or west, use the links below.
Default Cox Webmail login page – myemail.cox.net
Cox Webmail East – https://idm.east.cox.net/coxlogin/ui/webmail
Cox Webmail West – https://idm.west.cox.net/coxlogin/ui/webmail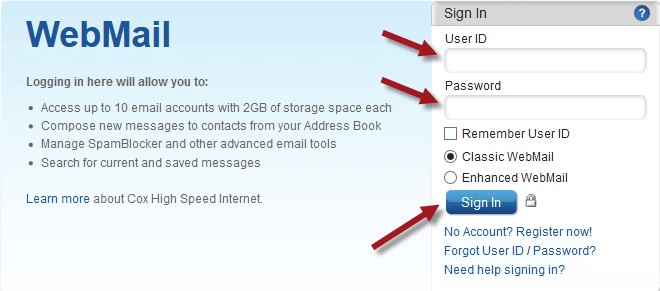 In the Cox Webmail login page, enter your user ID and password as requested, and select either Classic Webmail – with classic interface, or Enhanced Webmail – newly implemented and improved interface. Click Sign in to login to your Cox webmail email account's inbox page.
The Cox webmail interface will work on Internet Explorer, Microsoft Edge, Safari, Google Chrome and Mozilla Firefox on computers. As for mobile devices, Android smartphones and tablets will require Chrome on Android version 4.1 or higher; Apple iPhone and iPad will require Safari on iOS 9 or higher.
Cox Webmail sign up / forgot user ID or password
If you do not yet have an account, click on the Register now link to sign up for a Cox webmail email account. Your information as an existing Cox's customer such as your address or account number are required for the registration. Only existing customers are entitled for the free Cox communications webmail service.
If you couldn't remember your user ID or password, click on the Forgot User ID link or the password link depending on which one you've lost.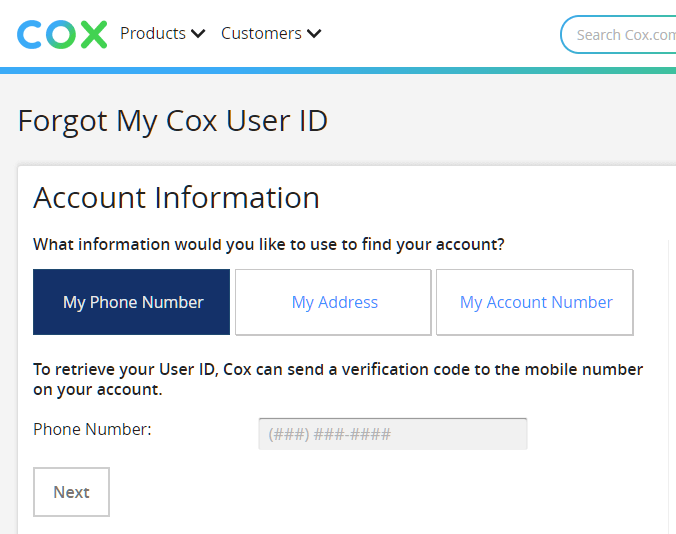 Forgetting password will require you to enter your user ID so that you can reset your password; whereas forgetting user ID will require you to either entering your phone number, address or account number for further ID retrieval.