So, you want to open PDF files with your favorite reader (Adobe Acrobat Reader or other PDF viewer app) but instead Windows 10 will always open PDF with another app such as Microsoft Edge, Chrome or Firefox. Here's a quick guide on how to change default PDF Viewer in Windows 10 and what to do if you cannot change the default PDF Viewer using the normal way.
Change Default PDF Viewer in Windows 10
If you haven't set any app as the default program to associate PDF file type, Windows 10 will always ask for which program you would like to open the PDF file with when you open any PDF file. To set a default app to view PDF file type in Windows 10, follow the steps below. As an example, we will set the default PDF Viewer in Windows 10 to Adobe Acrobat Reader DC.
Press Win+i keys to open Settings app.
Select Apps, then from the left pane, click on Default apps.
In the right pane, scroll down and click on the Choose default apps by file type link.
You should see a huge list of file types under Associate file types with specific apps.
Scroll down and look for .PDF file type.
Click on the Choose a default or the default app beside .pdf, then select your desired PDF viewer. In my case, I chose Adobe Acrobat DC.
Once you've done changing the default PDF viewer in Windows 10, close the settings app and restart your PC. Now all PDF documents should open with Adobe Acrobat Reader DC (or other PDF viewer you chose earlier).
If after several times of opening PDF file and Windows 10 automatically switches the default PDF Viewer back to Edge, scroll down and try the fix below.
Related download: Adobe Digital Editions for Windows 10 Download.
The "open with" way to change default PDF Viewer Windows 10
The other method to change default PDF Viewer in Windows 10 is by using the "open with" context menu and the always open with this app option. Here's how to do it.
Right-click any PDF file, select Open with from the context menu. Then, instead of immediately choosing the PDF viewer, select Choose another app.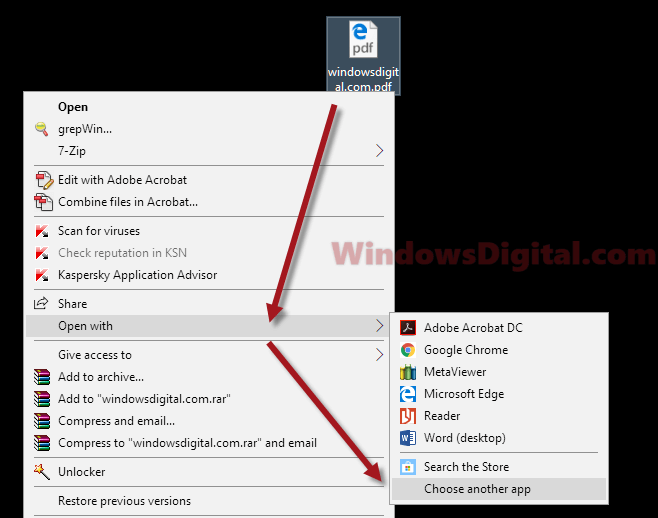 Under Other options, select Adobe Acrobat Reader DC (or other PDF viewer), and click to enable the option for Always use this app to open .pdf files. Click on OK to open the PDF file using the selected app.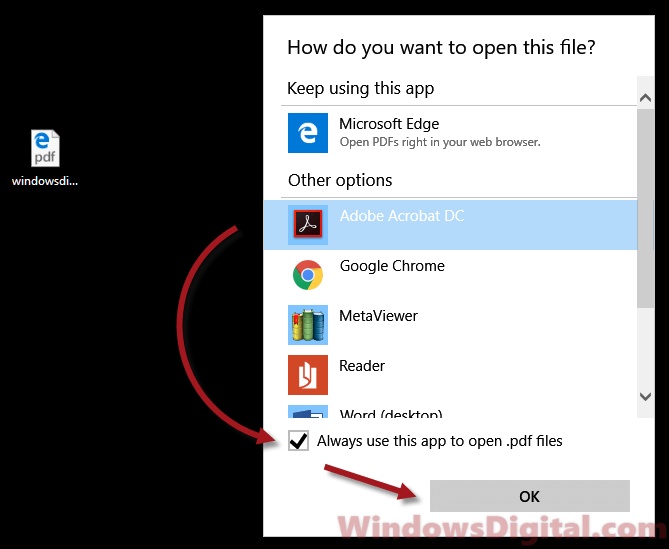 After doing this for the first time, all .pdf file will be opened with the default PDF viewer you chose earlier.
Cannot change default PDF viewer Windows 10 Fix
In some cases when you browse the web and open any PDF file online with Microsoft Edge, Edge will seem to hijack and set itself as the default PDF Viewer in Windows 10 again. This has always been a major issue for users who use Microsoft Edge as their default browser.
To prevent Edge from force changing the default PDF Viewer in Windows 10 without your consent, use the following command (without touching the Group Policy or Registry).
Go to start menu or Cortana to search for CMD. Right-click Command Prompt from the search result and then select Run as administrator. Paste the following command into the command prompt and hit Enter key.
for /f "usebackq" %i in ('reg query hkcr /f "AppX"') do reg query %i\DefaultIcon | find "MicrosoftEdgePDF" && reg add %i /v NoOpenWith /t REG_SZ /f
Another alternative method is to simply uninstall other Adobe products except for the one that you want it to be the default PDF viewer. This should also work to fix the issue.