AOL Mail is one of the most widely used email services in the world. Other than providing email services, AOL's main web portal – aol.com, also provides you with latest headlines and trending videos relevant to your geographical location. AOL app or AOL Desktop Gold is a desktop app for Windows 10 (also available on Android and iOS) that allows you to check your emails, manage your AOL contacts, receive push notifications for breaking news around you, all in one place. This guide shows how to download AOL app for Windows 10 PC.
Update: Unable to find AOL app from Windows Store? Read the latest updates below.
Download AOL app for Windows 10
AOL app for Windows 10 is available for download in Microsoft Store (used to be called Windows Store). Here's how to do it.
Go to Cortana or Start menu. Search for Microsoft Store, or just Store, and then open it.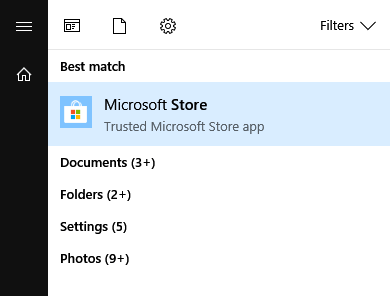 In Microsoft Store, click on the search icon at the top right corner of the window. Then, type "AOL" in the search bar to search for the app.

Select AOL App from the search result and then click on Install to install the app. The installation process may take a few minutes depending on your network speed.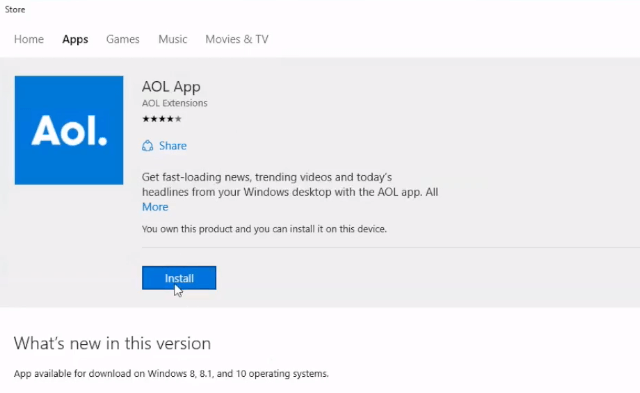 Once installed, you can find AOL app from Windows 10 start menu, listed under Recently added. You can pin the app to start menu or the taskbar by simply right-clicking it and then select Pin to start menu / taskbar.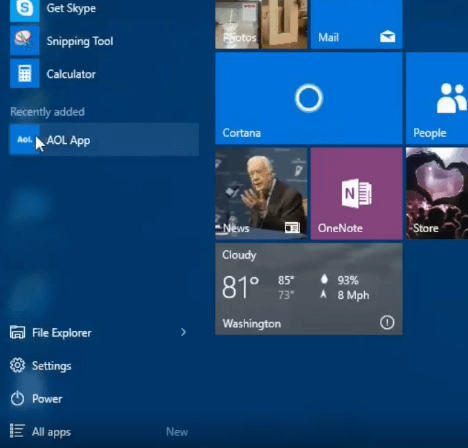 Why is AOL app not appearing on Microsoft Store?
If AOL app doesn't show up when you search for it in the Windows Store, it could mean that the app is not available in your region/country. It could also mean that the app is currently not available for everyone due to issue that causes the app's developer to temporary drop it from the store.
Give it a couple of days and check the Microsoft Store again later. You can also try to contact AOL support to learn about the problem.
Update: The older version of AOL desktop app that was once free to download and use has been discontinued and is no longer available in the Microsoft Store. The only AOL desktop app available for Windows 10 now is the new AOL Desktop Gold, which requires a paid subscription.
AOL Desktop Gold for Windows 10
AOL Desktop Gold is the new premium AOL desktop app for Windows 10. Unlike the old AOL app that used to be free to use, AOL Desktop Gold requires a subscription of $4.99 per month (please refer to aol.com for precise pricing). It is also available at no additional cost if you are an existing member of one of AOL's advanced plans.
If you're an AOL Advantage Plan member, you can download AOL Desktop Gold at no additional cost.
However, AOL Desktop Gold has a 30 days free trial program. You can try the software for free by signing up for a free trial before deciding if the software worth your money.
To apply for a free trial and to download AOL Desktop Gold for Windows 10, go to https://productcentral.aol.com/products/aol-desktop-gold and follow the on-screen instructions.