AOL Mail is one of the world most recognized email services, used by millions from all around the world. Like most other email services, AOL.com mail has its own email account login page. This guide is meant for users who are not very computer-literate and need a clear instruction on how to correctly and safely sign in to your AOL mail account through the AOL login screen.
If you are facing issues while signing in to your AOL email account, you may want to check if you are doing it the right way. Here are some best practices to help you safely login to your AOL Mail email account inbox page.
AOL.com Mail Login to Email account Guide
Check the URL of the login page
This may sound odd but it's utterly important to check if you are in the right AOL Mail login page with the correct URL. There are many cases where people trying to login to AOL Mail on a fake site through a malicious link. There are many fake sites on the internet pretending to be the AOL Mail official login page and trying to steal your login credentials if you ever try to sign in on these fake sites.
Thus, make sure the URL is from AOL.com or login.aol.com. It's always recommended that you visit AOL.com Mail login page by manually entering AOL.com on your browser.
Stay away from malicious links in your email or anywhere else that try to redirect you to the login page. This is very important as most AOL email account hacked cases are caused by users clicking and logging in through malicious links on their email.
How to login to AOL Mail email account now
Here's a step-by-step guide (with screenshots) on how to correctly login to your AOL Mail email account inbox screen.
Firstly, on a web browser, visit to login.aol.com.
In the login form, enter your AOL email address and then click Next.
On the next screen, enter your password, then click Sign in.
By default, if you have entered the correct login credentials, you will be redirected to AOL homepage where all the news and headlines are.
To get to your AOL Mail email inbox page, click on the email icon from upper right corner of AOL homepage screen.
Then, on the left pane, select Inbox.
You should now be on your AOL Mail inbox page where all your emails are stored.
The AOL stay signed in button
Another aspect worth mentioning is that you should only use the stay signed in option when you login to your AOL Mail account on your own computer or computer that you trust.
This is because if you use the stay signed in option when you login to your AOL email account on a public computer such as those in your college, internet cafe or even your friend's laptop computer, if you close AOL Mail without properly logging out, the next time anyone visiting to AOL.com on that particular computer will have your AOL account automatically logged in.
So, it is advised not to use the stay signed in button when doing AOL Mail login unless you are using your own PC.
AOL Email Forgot Password
If you have forgotten your AOL email account's password, to retrieve your password, click on the Trouble signing in link on the AOL Mail login page.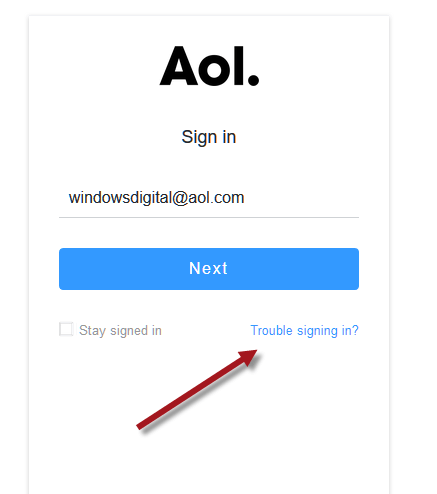 After clicking the link, enter your AOL email address or your phone number. On the next screen, you will be asked to enter the a verification code which will be sent to your phone number – the number you've given AOL when you first sign up for it. After the verification process, you should then be able to reset and change your AOL Mail email password.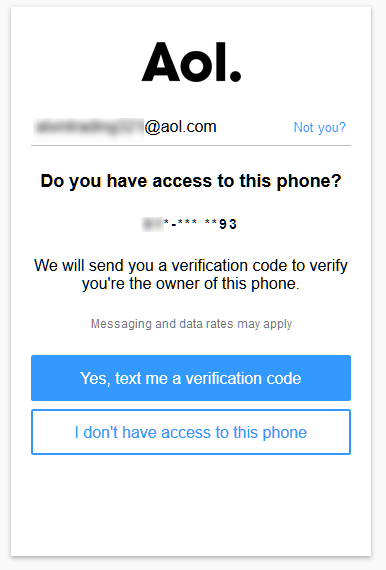 How to sign out of AOL Mail
To logout of your AOL Mail email account, on your AOL email inbox page, simply click on the sign out link right below your AOL Mail username at the upper right corner of the screen.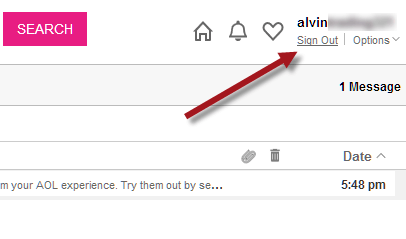 You should then be signed out of your AOL Mail account. It is always a good practice to logout of your AOL email account after you've done using it, especially on computers you have no control of.